Simple Setup
There is no need to re-invent the wheel here, getting started in business can be done quickly, easily and without much expense if you know how. There is however, some pre-requisites for starting a pet care business. You have to love your animals! Enjoying every minute with pets and keeping them happy, healthy and active is a must when getting started in this industry.
Next up is to take the time to think through what your goals for starting the business are? You might just want to run a side-hustle because you love pets and to make some extra cash, or you might be planning to exit corporate life for a more relaxed lifestyle. Either way, knowing where you want to end up is the first step to getting there. So, take some time and write down your end goal in specific terms, use the SMART principle (Specific, Measurable, Achievable, Realistic, Timely) for guidance.
So, what about all the boring stuff? The admin is important for getting off on the right foot, but it doesn't need to be as painful as you might think.
ABN's can be setup online in next to no time and they are free to register.
Business Bank Accounts that have zero transaction fees are out there.
Insurances are critical, but again you can find options that allow you to pay by the month or better yet, only pay per use.
Structures – if you are looking for advice on what structure is best or you want a more complicated structure like a company, trust, partnership or even GST registration, it's best to talk to a qualified professional such as your accountant.
Licenses – Check with your local council for regulations specific to your area and the type of business you are looking to setup, sometimes a quick call will get you the answers you need.
Make Money
Building a portfolio of clients is all about working on your sales and marketing skills. For most pet lovers, the idea of sales is confronting and daunting, but sales doesn't need to mean cold calling. 'Sales' can simply mean letting the people around you know who you are, what you are doing and why you are doing it. Letting people understand why you choose to spend your day with their pets will help to earn their trust that you can look after their special fury friends.
There are some key principles to remember that will serve you well as you build your pet care empire.
Brand vs Branding
Reputation is everything
Under-promise and over-deliver
Appeal to the pet owner
Promote your point of difference
If you are looking to amplify your reach there are a growing number of mediums or channels that you can use for paid and organic advertising. The key is to do your research to identify where your target customers are and use revenue in your business to pay for marketing efforts rather than paying out of your own pocket and hoping that it will get paid back.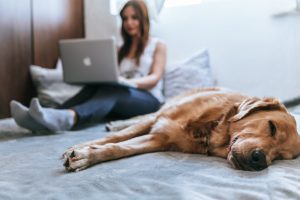 Automate Cashflow
I speak with thousands of self-employed business owners each year and the number one cause of stress, fatigue and failure in business is cash-flow. When I talk about cash-flow, I am talking about managing money from the time it is quoted, right through to paying your financial commitments (including your profit).
When it comes to quoting, the fortune is in the follow-up. Sending out quotes is only step one, you need to be able to pick up the phone and speak with your prospective client and talk them through the value of the service you provide.
Simple, professional and speedy invoicing is important to show that you are organised and know what you are doing.
Managing money once it has been paid to you is critical and there are some major financial commitments that need to be catered for. Putting aside savings to meet your tax, GST, super, insurances and other major expenses is a must if you want a stress-free ride through business.
Keeping track of your expenses through a simple and efficient process will mean that you are not over-paying tax and have the right records in place to support your business. Being able to report on your income and expenses means you can keep on top of your numbers.
Follow-up for late payments and keeping in touch with your debtors is the quickest way to speed up your cash-flow and ensure you are getting paid.
In my experience, profit doesn't happen by accident and if you know what profit or income you expect out of your business, then you should cater for it from day one. Setting up a profit reserve is a great way to create a forced habit of producing profit and giving you a fall-back in times of need.
Realise Potential
The early days are typified by the unknown, you start off on the journey without knowing exactly how far it will take you. Hopefully, you have established some personal and business goals that you are aiming for. Inevitably, there will always be re-adjustment and as you and your business grow, so too, may your plans and ambitions.
Three typical stages that a self-employed individual goes through look like this:
Side-Hustle
Doing it on the side is perfect when it is something you are doing out of passion, for a bit of extra coin or getting your foot in the door. The key ingredient is that this looks different for everyone and depending on where your end goal is, you may not want to grow past this point. At this point regardless of your plans, it is a side-hustle and your time is precious so you need to manage your businesses organisation, money management and clients with maximum automation.
Cementing foundations
Being a full-time operation requires another level of thinking, action and processes. The goal here is to fine-tune your strategy and make sure everything is working the way it should be. Your marketing, sales, customer satisfaction and personal satisfaction all become important measurements. This space can be a really comfortable lifestyle business when the right systems are implemented to give the owner maximum time, money and freedom to enjoy their lifestyle.
Building a team
For business owners who successfully build their business to a point they want to scale, the challenges of creating a team become the next hurdle. At this point, the business owner typically needs to go through a re-evaluation process as the dynamics change from a soloist to factoring in the demands of the team. Things like profit margins, business models, employment & sub-contracting practices all come into play.
Track Your Progress
I am a huge fan of measuring results as I believe it can be very difficult to see the forest from the trees as the owner of a small business. Setting a starting point and a destination with specific goals or waypoints is truly the quickest and easiest way to move forward.
As we move through our business journey there are some key metrics that should be tracked and measured to help keep us on course and heading in the right direction. How you measure these metrics is up to you, but I can't argue their importance heavily enough.
Personal Attainment
Customer Satisfaction
Sales & Marketing Performance
Cash-Flow Reporting
Strategy Alignment
If you are looking for more information or interested in finding out what the next steps are to kick-start your business, at Solo & Smart we run free 20 minute 1 on 1 discovery sessions, so reach out and book in now for a session.