How much do your clients really love you?
All too often we can get lulled into a sense of security that we are doing a great job and that people on the outside can see all the work and effort we are putting in. But what happens when clients don't see all the work your putting in or get put off by something small you're not aware of?
In pet care, the majority of disgruntled or dissatisfied clients will tell their friends about the bad experience and will rarely tell you as the business owner. These numbers are amplified by the fact that the animal being cared for holds a very special place in the eyes of their owners, aka your client. Being able to cater to the highly sensitive needs of pet owners needs to be carefully managed.
The big trick is to have a consistent method of evaluating your client's experiences with your services. This won't happen by accident and needs to be done in a discrete, non confrontational manner to get the best results. When you do get negative feedback treat it as a gold because that customer might not be the only one experiencing it. Most importantly, go back to the client (and other clients for that matter) to address the concern, let them know you have heard them and outline the steps you are taking to improve the situation. Finally, make sure you follow through on any promises you make.
Systems + automation sets you free
As a pet care business owner, whether you are running it as a side-hustle or full-time gig, there are three main trigger-points that show-up time and time again.
A lack of time, stress and overwhelm are always front and centre in any business that has gone askew. However, the good news is that these feelings of frustration can be avoided if you have the right systems in place to help manage the workload.
The core benefit of any good system is that it is automated or at the very least, alleviates a manual process that you have to do yourself without it. The big kicker is that for the lost time, effort and struggle of doing these manual processes yourself, 9 times out of 10 it's cheaper in the long run to invest in a simple system to do the hard yards for you.
I always recommend that pet care business owners focus on three core systems to keep their business running smoothly.
Client acquisition – a process for finding and acquiring new business that can be replicated.
Business administration – keeping all of the cogs turning in the business shows up as an organised, professional provider.
Money management – is all about controlling the revenue stream from the start to the end and ticking all the right boxes in-between.
Tax troubles
The number one cause of business failure that I see on a regular basis is caused by the imposition of a tax bill that the business simply cannot pay. Even for businesses that are successful, tax time is always the worst time of year and causes huge amounts of unnecessary stress and heart-ache.
The stats show that over 50% of new businesses fail within the first three years. They also show that 2/3 of the total debt owed to the tax office comes from micro business. Here's why, in your first year of operation you typically won't be required to pay a cent of tax until the end of your first financial year when you do your tax return. Assuming you are organised, you will get your tax return in by the due dates. Shortly thereafter, the tax office generally will come back with an amount for you to pay for your full last year of operating + an instalment amount for the first quarter of the new financial year (dependent on your circumstances).
So, if business has been going ok and you haven't put aside any money to meet your tax obligations you can find yourself in a spot of trouble.
To get yourself setup correctly from the beginning, you either need to be incredibly diligent and exceptionally good with money or look at automating the process with a system like Solo & Smart.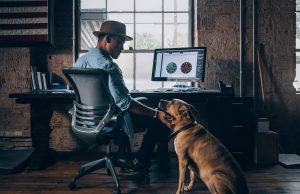 Running the risk without insurances
Paying for expensive insurance premiums can be hard to stomach in the early days and creates the temptation to run the risk. You have probably heard the horror stories yourself but take comfort in the idea that "I'll just test it out for a little while" or "as soon as I get a few more clients I'll get insured"
Unfortunately, insurance is a necessary evil in any business and when it comes to pet care it is a must. Public Liability is the primary insurance that you will need and it will typically cover you for damage to a third party.
Fortunately, there are other options to buying a yearly or even monthly insurance premium. Solo & Smart run a ground-breaking pay per use insurance policy that allows you to only pay a small percentage of the value of the work but with all the benefits that comes with insurance.
Whatever option you choose to go with, make sure you go over the details to ensure you are covered for the work you are doing. Don't put it off, get yourself insured because accidents do happen.
How do you show up?
Turning up professionally and consistently is all about building the right image or reputation of your business in the eyes of your customers.
So how do you avoid getting the wrong reputation with your customers? Here are a few tips that will help you get on the front foot and stay there:
Professionalism: Being professional shows up in a lot of different ways, from being punctual, how you dress and having a strong business brand with the branding collateral to match.
Organisation: When the inner workings of a business are a mess, clients can often sense something is not quite right. Having your admin up to date also helps to show you know what you are doing and are professional in the way you do it.
Consistency: People very quickly build an expectation of what you are going to deliver based on their previous experiences or others experiences. If your level of service or quality differs from day to day or week to week, people's expectations will inevitably not be met.
At the end of the day it is not one single thing that will boost your reputation, but a combination of all these elements that will deliver a really engaging experience for your clients.
Doing it all yourself
The simple nature of self-employment has always had an element of doing it all on your own. When I speak to clients they often talk about the stress and overwhelm of being solely responsible for every aspect of their business.
Unfortunately, these pressures often build into huge roadblocks, as the business owner, you become confronted by disorganisation, a lack of time and frustration.
Fortunately, the world in which we live in has never been easier to find systems that can automate your workload or outsource small aspects of your business to an external professional. For your admin and cashflow, there are systems like Solo & Smart and for graphic design, marketing or other professional services you can use job-boards like Upwork or Freelancer.
Planning
When it comes to planning out your business, I am a big advocate for less is more. Having a 20-page business plan written down might seem like a great idea but in my experience, they rarely get finished and if they do they don't ever get looked at again.
For me, the best business plans can fit onto a single piece of paper. The process of getting all your plans, ambitions and desires confined to one piece of paper requires a lot of thought and getting crystal clear on what you want to achieve.
The important point is that the plan must be written down and preferably reviewed regularly. Being self-employed gives you the flexibility to grow, develop and pivot at rapid speed and your business plan should be just as flexible.